Living Well Holistic
Life Consulting

Holistic Life Consulting is a process of consulting based on a Holistic Model for individuals in all areas of life:

Physical, Mental, Emotional, Social, Spiritual, Vocational, Financial and Environmental.

As a team, you and Jennifer discuss and evaluate what is working in your life, what you desire to change, and what steps are needed for you to move forward on your Journey to Living Well.



Living Well Holistic Life Consulting is intended to especially assist you with re-discovering Balance in your life. Jennifer finds great passion in providing support to others who desire a decrease in stress, particularly in the area of your home environment. Jennifer has over 15 years of experience in overcoming her own adversities that provided her the gift of having to learn and create Balance in her own life. With those experiences, along with her education and training, Jennifer considers it an honor and blessing to assist others on their Journey to Balance and Living Well.

Through the process of Holistic Life Consulting, you will become clearer in your Purpose, Intentions and Manifestations. As Jennifer assists you with working through your feelings and observations, your Vision and Destiny will be transformed into Your Reality!

With each Holistic Life Consulting Session, you will be provided a Living Well Plan to keep, so that you can create and implement your Visions as you wish, with no pressure.

Home Organization & Blessings are also a service Jennifer provides that is designed to help you feel more in control of your life and simply more balanced! Whatever space in your home or area in your life that you feel needs further support, Jennifer will provide it! With her personal experience of living with a Traumatic Brain Injury for over 15 years, Jennifer has had to develop life systems and organize her environments in a way that is practical, simplified, and organized. As a result of her own life journey, Jennifer has found passion in teaching these skills to others and using her life experiences to help others. She is specifically trained in the Stephen Covey 7 Habits of Highly Effective People, and teaches the 7 Habits planner and organizational tools, but is open to assisting you in whatever way fits your learning style best!

Home Organization & Blessings are available for $45 a session. For those who live beyond 20 miles from Shakopee, a $10 mileage fee will be added. Contact Jennifer to set up or discuss further! You can also find more information on this service at Jennifer's website Living Well Home Organization

Some who are called to the adventure choose to go. Others wrestle for years with fearfulness and denial before they are able to transcend that fear. We tend to deny our destiny because of our insecurity, our dread of ostracism, our anxiety, and our lack of courage to risk what we have. Down deep we know that to cooperate with fate brings great personal power and responsibility. If we engage our destiny, we are yielding to the design of the Universe, which is speaking through the design of our own person. In the face of refusal, we continue our restlessness, and then, as if from nowhere, comes the guide: something or someone to help us toward the threshold of adventure. This may take the form of voices within or people who guide us to see the way.
~ Joseph Jaworski, Synchronicty: The Inner Path of Leadership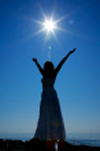 Reminders of the Principles of Manifestation:
• You have so much more power in your mind than you can even imagine! What you think and choose to believe, you attract.
• To achieve change, you must first make a shift in your thinking patterns that have helped in creating the present situation.
• The energy of renewal in your life, must first be mentally created and believed by yourself.
• In order to manifest change, you must let go of all beliefs that block you from moving forward.
• Manifestation is the energy of what you truly believe, not what you think you believe.



The purpose of life is to be useful, honorable, compassionate, and to make some difference so that you have lived and lived well. ~ Ralph Waldo Emerson
"Having a session with Jennifer opened me up to a whole new world of understanding Energy and how it impacts every part of my being and life. I don't know where I would be today without her guidance and healing!"
~Kim, Eden Prairie