Pregnancy and Birth Services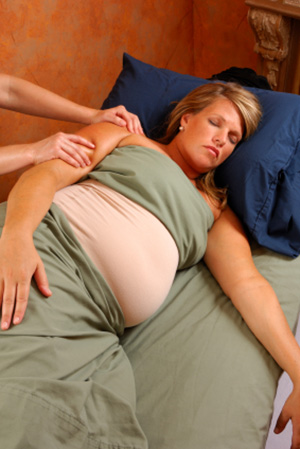 My journey to motherhood began in the Spring of 2012 when my husband, Nate, and I found out we were expecting our first child! I knew right away that I was going to surround myself with a holistic team of professionals that would provide our family with supportive and empowering care. With my background in holistic health, I was blessed with an amazing team of professionals who not only cared for me but also inspired and empowered me in ways I am forever grateful for. The gift of these wise women in my life changed me in ways I didn't expect, and therefore inspired me to expand my Living Well services to also provide specific healing sessions to women during time of pregnancy and birth time.

My own birth experience taught me firsthand the power that comes from supportive caring Touch, Energy, Words and Anointing with Oils! During my 22 hour un-medicated birth time, I was surrounded by three amazing doulas, a midwife and a loving husband, each playing their own role in my time of need and each having different gifts that I benefited from at different times. I would not have been able to make it through those hours without that support. After my personal birth experience, I felt strongly called to start offering my services to other women and knew that my passion of Healing Touch and Essential Oils could have the potential to positively impact other women and in some small way, I would be able to pay back what I was gifted.


So here I am – embarking on another chapter on my vocational journey! I am excited to now be offering the following services to women during both pregnancy and birth time (labor), if they so choose:

Healing Touch
Healing Touch with Anointing of Young Living Essential Oils


Excerpt From: midwiferytoday.com

Touch is the primal language of life; the language that speaks to the deep mind of a laboring woman and the awakening senses of an infant. Healing Touch and Anointing with Oils enhance the body's natural ability to sustain health and give birth.

The power of Touch during pregnancy results in:

Decreased anxiety
Improved mood
Reduced back pain
Improved sleep patterns
Reduced leg pain
Reduced stress hormone levels
Fewer complications during labor
Fewer complications for infants following birth

The art of touch is an ancient tradition of health care that is compassionate, empowering and holistic. A calm, soothing, female touch during the intense challenge of labor assures that women's bodies are sources of strength and power. It is a privilege and honor to be present during this significant time in one's life and I feel blessed to be able to walk part of your journey side by side with you.
For further information on having me assist you during pregnancy and/or labor, please contact me!